Das Schicksal der Nora Day (Leseprobe)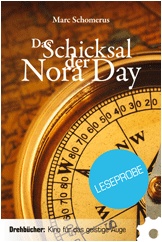 E-Book; available on the iPhone AppStore (external)
Author: Marc Schomerus; Language: German
Type: screenplay (History/Mystery)
Length: 80 pages (preview contains the first act)
for Apple® iPhone™ und iPod touch™
Im Spätsommer des Jahres 1812 zieht der Londoner Arzt Karl Goodheim mit seiner Frau Nora und Tochter May in das alte Familienanwesen seiner Frau an der "weißen Küste" Cornwalls.
Während Nora mit der Zurückweisung durch die Bewohner des Dorfes Fendarryn zu kämpfen hat, in dem sie einst aufwuchs, begegnet die gerade erwachsen werdende May am Strand einem seltsamen jungen Seemann, Jacob. Sie verliebt sich in ihn, obwohl er er sie immer wieder zurückweist.
Als die junge Frau sich endlich am Ziel ihrer Träume wähnt, rollt ein Sturm auf die weiße Käste zu, der ein altes Wrack und viele Schatten der Vergangenheit aus der Tiefe an die Oberfläche zurück holt.
Features:
read page by page
every page is presented in optimized layout
table of contents
current page saved automatically
Internet-Supplement:

Apple, the Apple logo, iPod, and iTunes are trademarks of Apple Inc., registered in the U.S. and other countries. iPhone is a trademark of Apple Inc.