Dramaturg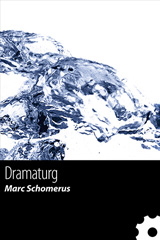 E-Book; available on the iPhone AppStore (external)
Author: Marc Schomerus; Language: German
Type: short story (from the collection "quadra eins")
Length: 36 pages (medium text size)
for Apple® iPhone™ und iPod touch™
Eine kurze Geschichte über das Geschichtenerzählen und unsere Angst vor der Stille und der Dunkelheit.
"Als ich den Schlüssel im Schloss herumgedreht hatte und die Tür zum Theater vor mir aufdrückte, wäre ich für einen Moment am
liebsten wieder umgekehrt und davongerannt. Zurück in die Kälte, zurück in den lichten Reigen des Schnees, um meinen Platz
inmitten all der anderen fallenden Flocken wieder einzunehmen. Ich mochte es, wenn es schneite im Winter."
Features:
enjoy in portrait or landscape mode
select 3 different text sizes
scroll fluidly or page by page
read black on white or inverted
current page and settings saved automatically
Internet-Supplement:

Apple, the Apple logo, iPod, and iTunes are trademarks of Apple Inc., registered in the U.S. and other countries. iPhone is a trademark of Apple Inc.