In deiner Gegenwart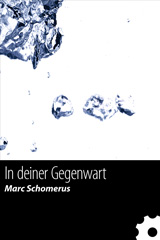 E-Book; available on the iPhone AppStore (external)
Author: Marc Schomerus; Language: German
Type: short story (from the collection "quadra eins")
Length: 27 pages (medium text size)
for Apple® iPhone™ und iPod touch™
Eine kurze Geschichte über eine Sommernachtssuche und das Wiederfinden einer verlorenen Sehnsucht.
"Als das Münster eines Tages nicht mehr da war, schien dies niemand zu bemerken. Es schien tatsächlich niemandem aufzufallen, dass der große Platz im Herzen der Stadt mit einem Mal einfach leer war. Zumindest kümmerte es keinen. Wie jeden Tag gingen die Menschen ihren Geschäften nach, verweilten einen Moment, um einen Bekannten zu begrüßen und ein paar Worte zu wechseln, oder überquerten einfach schnellen Schrittes diesen verlassenen Platz, um rasch vom einen Ort zum anderen zu gelangen."
Features:
enjoy in portrait or landscape mode
select 3 different text sizes
scroll fluidly or page by page
read black on white or inverted
current page and settings saved automatically
Internet-Supplement:

Apple, the Apple logo, iPod, and iTunes are trademarks of Apple Inc., registered in the U.S. and other countries. iPhone is a trademark of Apple Inc.