Der Winter der Wölfe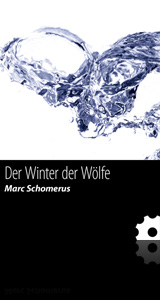 E-Book; available on the iPhone AppStore (external)
Author: Marc Schomerus; Language: German
Type: short story (from the collection "quadra eins")
Length: 33 pages (medium text size)
for Apple® iPhone™ und iPod touch™
Eine kurze Geschichte über den Winter des Herzens, Wölfe und andere Wunden und den Weg in den Frühling.
"In den letzten Wochen war die Kälte immer weiter von den Gipfeln der Berge hinabgeflossen. Ein weißer Zauber hatte sich über die kargen Hänge gelegt. Björn ließ seinen Blick noch einmal – ein letztes Mal – über die schneebedeckten Weiten des Hochlandes gleiten, dann klemmte er sich den Rest des Brennholzes unter den Arm und stapfte zurück zur Hütte."
Features:
enjoy in portrait or landscape mode
select 3 different text sizes
scroll fluidly or page by page
read black on white or inverted
current page and settings saved automatically
Internet-Supplement:

Apple, the Apple logo, iPod, and iTunes are trademarks of Apple Inc., registered in the U.S. and other countries. iPhone is a trademark of Apple Inc.